Customer Mass Onboarding Biometric Identity Gateway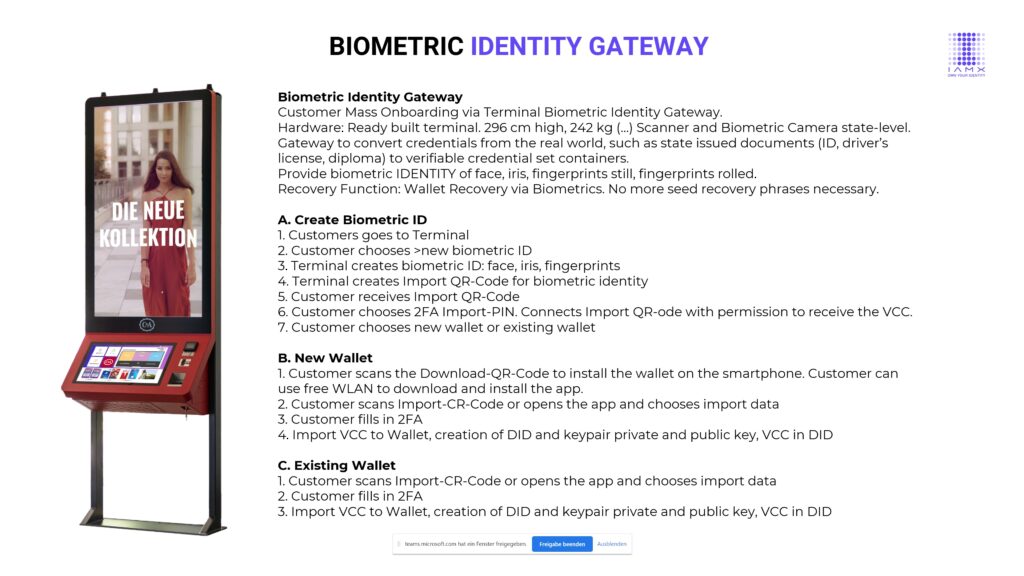 Terminal
Biometric Identity Gateway
Hardware
Ready built terminal. 296 cm high, 242 kg, 65-inch display top, 700 knit, 27-inch touch display, printer, Payment Terminal, Scanner and Biometric Camera state-level.
Gateway Function
Gateway to convert credentials from the real world, such as state issued documents (ID, driver´s license, diploma) to verifiable credential set containers.
Storage
No storage of personal data.
Storage, that Authentication Agent has authenticated biometric Identity of face, iris and fingerprints, possible to combine with X attributes needed by the verifier, in container sets. Adding of biometrics to the attributes.
Prerequisite Issuance
Issuance of verifiable credential data set containers, only if person on ID and person standing in front of terminal are matching.
Biometrics
Provide biometric IDENTITY of face, iris, fingerprints still, fingerprints rolled.
Chaining of unique identifiers.
Recovery Function
Wallet Recovery via Biometrics.
No more seed recovery phrases necessary.
Fingerprints FBI Conformity
Fingerprint flat, compliant with FBI CJIS Divison´s Next Generation Identification System Image Quality Specifications (IQS): Appendix F Specifications.
Fingerprints BSI Conformity
Fingerprint conformity based on BSI Biometrics for Public Sector Applications (German Federal Office for Information Security). Life detection for each finger, fingerprint segmentation.
Passport Authentication Conformity
Electronic passport authentication conformity based on BSI Conformity Tests for Official Electronic ID Documents (German Federal Office for Information Security). Authenticate approx. 180+ passports.
Biometrics Conformity
Sovereign Applications – Conformity Specification for Technical Guideline Biometrics in Sovereign Applications based on BSI Conformity Tests.
Biometric binding to DID with Smartphone vs Biometric Identity Terminal
Smartphone generated biometric binding to a DID is possible. The difference to the IAMX system is based on the level of assurance, as described above.
Process to verify biometrics
The captured raw biometric data does not leave the terminal and is processed by biometric hash methods to provide only these secure and non-reversible hash results. These hash results can then be compared with a second biometric hash data-set, which was created elsewhere (different location, different time). The result of the comparison is the deviation or agreement (in %) of the two raw data sets that led to the respective hash results (vector model). This is based on various standards, such as https://www.iso.org/standard/52946.html.