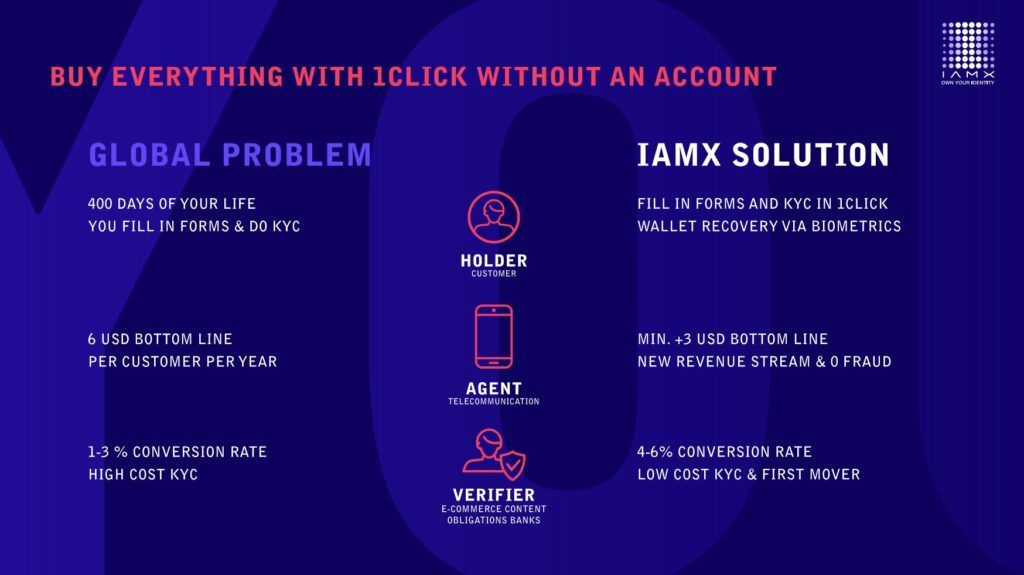 About | Global Problem & IAMX SOLUTION
1. Holder / Customer
Problem:
400 days of your life, you fill in forms online and do ident (post-ident, video-ident) or Know-Your-Customer (KYC) processes via your smartphone or notebook
Solution:
1CLICK-FULFILLMENT. Time: 1 second.
Re-usable form-filling: Fill in forms with 1CLICK.
Re-usable ident and Know-Your-Customer processes with 1CLICK.
Save time and money with the highest convenience.
You (customer) own and control your identity and your assets.
Wallet Recovery with biometrics. No more passwords needed.
Privacy ensured, secure, GDPR and AML conform.
Exercised via the IAMX iOS and Android App, (IAMX Identity Wallet) and IAMX Browser Plug-in.
2. Agent / Telecommunication
Problem:
The average net result per customer per year in the telecommunication industry amounts to 6 USD.
Solution:
Monetize customer base and add 3 USD net result per customer per year as a minimum.
3. Verifier / E-Commerce-Shop
Problem:
The average E-Commerce shop requires 33-100 visitors for 1 sale.
The average cost per visit amounts to an average of 1,50 USD.
Asyemtric online marketing costs and revenues.
Online marketing costs: per visit, CPM, fix, other, not connected to the sale.
Revenue: per Order.
Solution:
With IAMX 1Click the average E-Commerce Shops requires 16 – 25 visitors for 1 sale.
This is connectable on any website, app, dApp, wallet, marketplace, software.
+++ UPDATE MARCH 2022 +++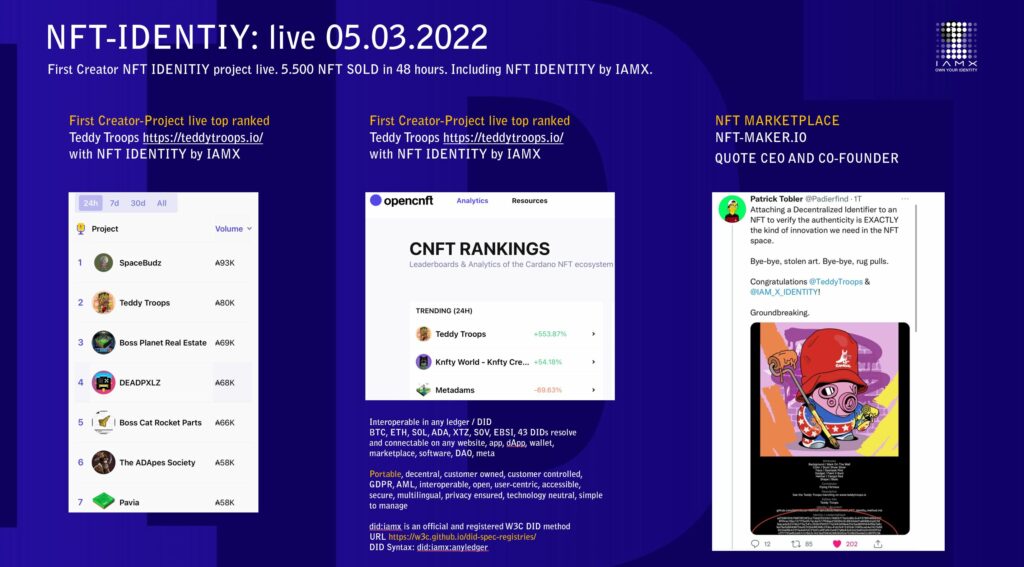 Achievements in March 2022
1. IAMX W3C: did:iamx is a W3C DID-method since 01.03.2022
2. First NFT Creator Project TEDDYTROOPS with IAMX NFT IDENTITY [verify creator, prove authenticity, add trust]
a) NFT-Website: https://teddytroops.io/.
b) On 05.03.2022 5.500 NFT sold out within 48h ranking NFT TOP1 on opencnft.
c) Purchasers prefer NFT IDENTITY. Creator is verified. Fraud-Prevention. High-value second market.
3. NFT IDENTITY is currently being added to NFT MARKETPLACES and WALLETS, to make NFT IDENTITY visual with every NFT.
4. NFT IDENTITY is based on a sucessful log-in check with the following websites, including the amount of fans / follwer if applicable:
Twitter
Facebook
Instagram
TikTok
Discord
Github
Marketplace Account
YouTube
E-Mail
Website
Mobile Phone Number
Bank Account / IBAN
IAMX IDENTITY
5. NFT IDENTITY works on any ledger and is portable.
6. NFT PROPERTIES
a) What: Adding standardized, legally enforceable buyouts and rights to NFT (commercial, media, geographic, royalties).
b) Benefit: Adding value to the asset. Asset can be used in business cases, full ecoystem. Asset can create life-time revenues.
7. IAMX IDENTITY IN AFRICA
"IAMX-solution could be used in egovernment", Andrew Forson, Head of Africa, IAMX, live from Ghana.
Conference Blockchain Ghana and WADA on 07.03.2022.
B. Technology
Interoperable
Any ledger / DID BTC, ETH, SOL, ADA, XTZ, SOV, EBSI, 43 DIDs resolve
Properties
Portable, decentral, customer owned, customer controlled, GDPR, AML, interoperable, open, user-centric, accessible, secure, multilingual, privacy ensured, technology neutral, simple to manage.
W3C DID-method did:iamx
did:iamx is an official and registered W3C DID method; URL https://w3c.github.io/did-spec-registries/
DID Syntax: did:iamx:anyledger
Intellectual Property Filing
Authentication of persons, organizations, things, properties, attributes, and credentials via a technical procedure for providing zero-knowledge proof between entities. Conformity: GDPR per country. AML per country.
Putting the business model of IAMX into context. Which year did you go online?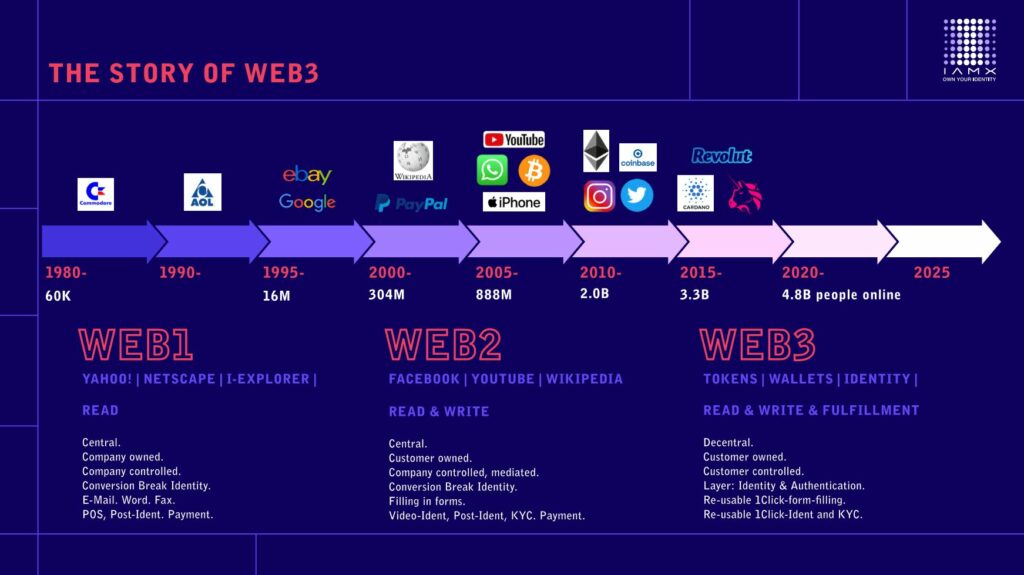 Summary: The next 5 big things in web3, NFT Identity and more. Start play at Min 11:45. Blockchain Monday.
https://www.youtube.com/watch?v=X29jG03LbG0
THE STORY OF WEB3
web1, the 1980´s
In 1986 BTX had 60k Customers. Today there are almost 5 bn people online.
Commodore launched the C64 in 1982 and sold a total of 22 million units. Today there are more registered phone numbers, then people (7,9 bn).
The arcade-game Pac-Man, released in 1980, sold 400.000 hardware units. Today you have The Sandbox and Axie Infinity enabling customer centric business models in gaming (Collectibles & NFT, Content, Metaverse)
web1 is Yahoo, Netscape, Internet-Explorer, Google, Tencent, Compuserve.
Key Function: READ
web2, the 2000´s
The Internet gains the function of user-generated-content (WRITE TO THE INTERNET)
Social: 2004 Facebook | Video: 2005 YouTube | Transport: 2009 Uber | Accommodation: 2008 airbnb
Phone: 2007 iPhone | Game: 1999 SecondLife, 2004 World of Warcraft both with gamer-owned assets and economy
Pictures: 2010 Instagram | Communication: 2006 Twitter, 2009 WhatsApp
The web is central, data is customer owned, company controlled
Key Function: READ & WRITE
Conversion break with every transaction, Filling in forms, Video-ident, Post-ident, KYC, Payment
web3., 2015

The layer identity and authentication is added to the internet
Identity and authentication is customer owned and controlled via an IDENTITY WALLET (App, Browser) in decentral storage
Key Function: READ & WRITE & FULFILLMENT
Enables legally binding actions in 1CLICK, 1BIOMETRICS
Identity and authentication connects people, organizations, and assets and enables asynchronous workflows
NFT IDENTITY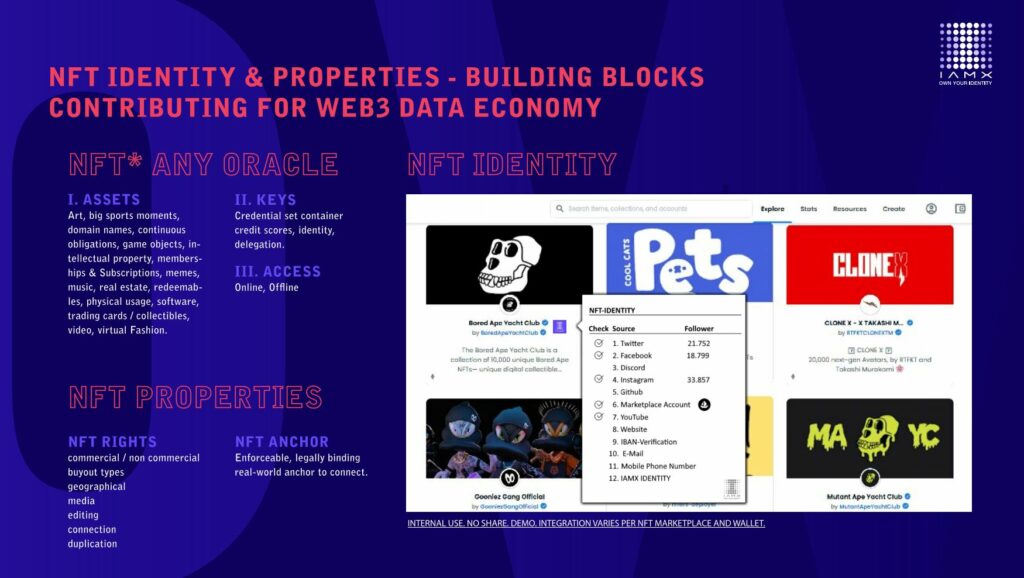 TRACTION
First NFT Creator Project live. Top-Seller.
NFT-Identity live. Success: 5.500 NFT SOLD in 48 hours.
Including NFT IDENTITY by IAMX.
BUSINESS MODEL AND STACK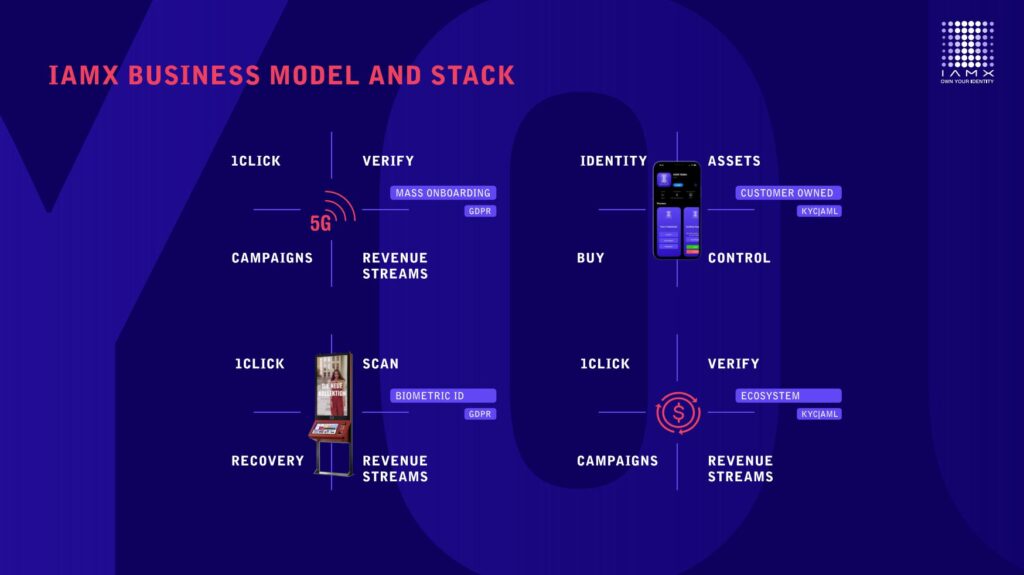 Sources Customer Mass-Onboarding: Telecommunication, Terminals, Identity KYC, Login
App: iOS, Android
Marketplace: Affiliate-Revenues Lifetime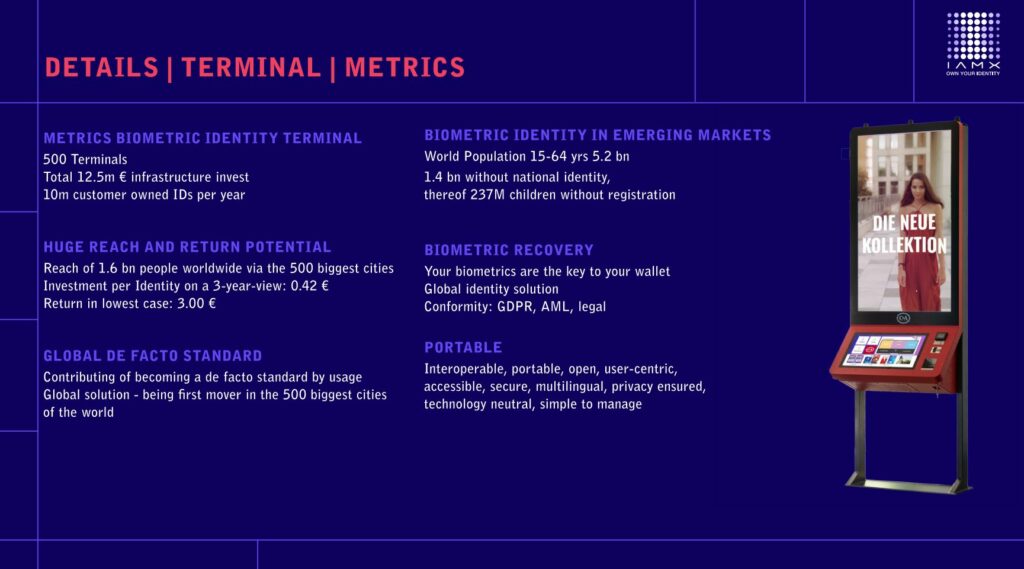 Quotes about IAMX
"IAMX really connects you, a company or even a thing like your real estate.
They make attributes instantly verifiable.
Everything is based on holder owned self-sovereign identity principles.
To me they solved chicken and egg:
They onboard telco customers via the telco.
The telco customers find the best offers in the world with 1Click-Fulfillment.
Telco generates additional revenue stream by monetarizing the transactions of their customers, saving costs by complete prevention of fraud and payment and execution in a smart contract."
Marc Majewski, Advisor IAMX
"Everybody talks about connecting the chain to the real world.
The hardware part of their technology is a hardware-terminal, that serves as an interface between real world and chain world. In real world we have all our proofs in plastic and paper. This automates scans it, adds your id/passport, adds your biometrics, packs them in several credential containers and sends them to the owner in any wallet. The credential-sets are accepted by any verifier. Holder is independent of the issuer and much faster in onboarding his credentials on the chain. How long do you want to wait to have your id, fishing diploma or driving license in your controlled ID wallet?"
Sebastian Bongartz, Advisor IAMX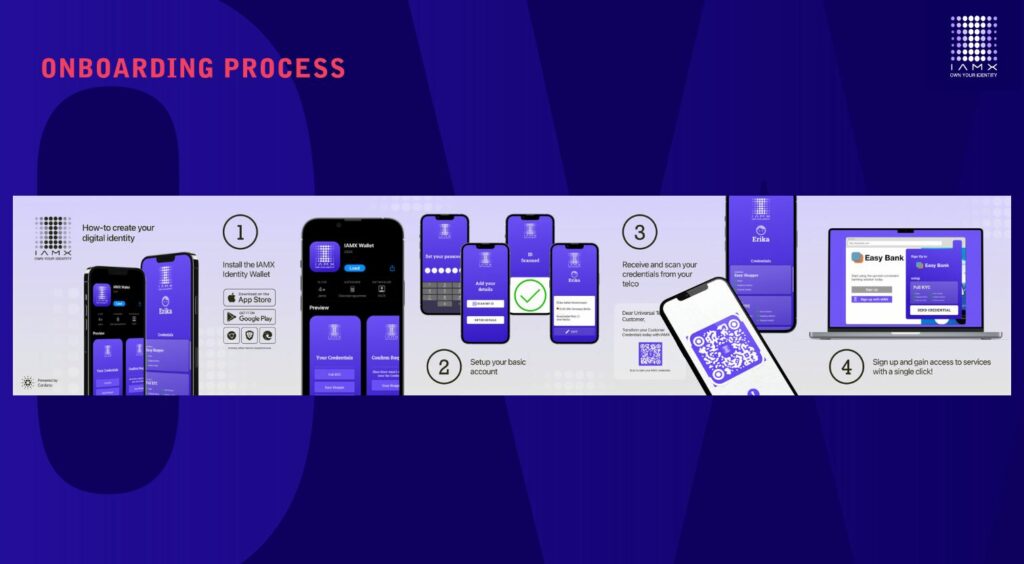 Vision
Enable "Human Right to have an identity", UNITED NATIONS article 8, UNCRC.
Mission
Protection of human rights and holder-centric ownership is the leading principle in our architecture, software, and actions.
We promote prosperity by enabling identity.
We save time and money for our stakeholders.
We generate revenues from monetizing transactions.
We are the highest in interoperability.
100 % free for the user: The design results in near to 0 of any currency transaction costs, the highest speed and performance.
We follow a marketplace- approach (holder + verifier) to solve chicken and egg by balance. We follow the management principle of crossing the chasm in order to support mass market adoption of high technology decentral ledger-based transactions.
We connect holder and verifier.
Videos
The next 5 big things in web3. NFT IDENTITY and more.
Podcast-Video, Blockchain Monday, 14.02.2022, Hanseatic Blockchain Institute on web3, Hamburg, Germany
Key differentiators and evolution of web1-web2-web3.
The next 5 big things in web3, NFT Identity and Properties, Layer Identity, DIDs and more.
https://www.youtube.com/watch?v=X29jG03LbG0
Interview with IAMX -Self-Sovereign Identity SSI
Spicy Dumpling Show, Jan 2022
https://www.youtube.com/watch?v=9-5WL6FuOlA
Presenting the IAMX Founders
In Good Fortune, Dec 2021
https://www.youtube.com/watch?v=sbL6r12qnM0
Mass market adoption of SSI and VC.
Panel Recordings from: Internet Identity Workshop 33, Oct 2021
The Internet Identity Workshop has been finding, probing and solving identity issues twice every year since 2005. IIW meets in the Computer History Museum in Mountain View, CA. Every IIW moves topics, code and projects downfield. 500 people from any time-zone in the world, representing states, standardization organizations, ethical organizations, governance, technology, scientific research, applicable science.
Tim Heidfeld, Jochen Leinberger
https://www.youtube.com/watch?v=AhXB9Kzzklg